Regular price
Sale price
$12.99
Unit price
per
Sale
Sold out
A single beautiful rose bloom among subtle greenery and filler flowers in a simple, classic vase.
**Please note: The color of the roses and the variety of the greenery, filler flowers and vase will vary. However, each bouquet will be as equally beautiful as this one.
Shipping & Returns

SHIPPING TIMES

Thank you so much for ordering from Petal & Stem! Petal & Stem is, for the most part, a one woman operation. This means that each new order will be shipped in the most timely manner possible. In-stock items will ship from Petal & Stem within 2-3 business days of the purchase date on most occasions I am a one woman show, so if it takes a few extra days, please be patient. Once your order ships, it should arrive in 3-5 business days depending on your selected shipping preferences. 

Please note that your order may experience delays due to a high volume of orders during promotional events or Holidays.

Please note that I ship Monday-Friday, and do not count weekends or US holidays as business days.

STANDARD SHIPPING: USA

I ship most US orders via UPS or USPS depending on the size and weight of the order and which items are ordered. I prefer to ship in as few boxes as possible to conserve materials, but in the event that one or more of your items will require additional processing time, I will ship your available items as soon as possible. 

EXPRESS SHIPPING

Express Shipping is not available on the website at this time. Please give me a call at 308.497.2292 if you need something expedited.

Flower, Balloon & Live Plant Deliveries

Floral bouquets, balloon bouquets and live plants are available for local delivery and delivery within a 25 mile radius of Spalding, Nebraska. Delivery prices depend on location.

In town: $3.00

Within 10 miles of Spalding: $6.00

Out of town (10-25 miles): $15.00

PRICING POLICY

All prices in our store and online are in US dollars and are subject to any applicable taxes according to state and local laws. Availability, prices and delivery rates are subject to change. There may be errors in the prices, descriptions or images of certain merchandise, and I reserve the right to restrict orders of those items.

RETURN POLICY

First, I want you to know that your satisfaction is what matters most at Petal & Stem. If you order something from Petal & Stem and you don't absolutely love it out of the box, rest assured that you can return most items within 30 days of delivery for a refund.

DEFECTIVE OR DAMAGED ITEMS

If I made a mistake, I'll take care of it. If you received a defective or damaged product, please let me know as soon as possible. Give me a call at 308.497.2292 or send me an email at michelle@shoppetalandstem.com so that we can get the situation sorted out. Make sure to put Defective or Damaged Item in the subject line. 

STANDARD RETURNS

Petal & Stem's return policy covers returns of most products in new condition up to 30 days after delivery. 

If you've decided you don't like what you ordered after having it in your home for a couple of weeks, no problem. In order to return your item, please mail the product to:

You will receive a full refund for your item(s) once the items have been returned to the store. Return shipping charges will be the customers responsibility and original shipping charges are not reimbursable. 

EXCHANGES

Because Petal & Stem is a small business, I do not carry large quantities of each item that is available. If you would like to exchange something within 30 days of purchase give me a call at 308.497.2292. Shipping is not covered on exchanges. Exchanges are allowed in store at any time within 30 days. 

 

 
How To Care For Your Fresh Flowers

How to Care for Fresh Cut Flowers

After you receive your bouquet, you can help your fresh flowers last longer by following these simple cut flower care guidelines. At Petal & Stem, we always use the freshest flowers available to fill your bouquet. Knowing how to make your flowers last longer will add to your enjoyment of them, and will help keep them vibrant and long lasting.

Adding an aspirin (not ibuprofen) to your water seems to lengthen the life of the flowers. Just be sure to snip a bit off the ends of the flowers each day.

Check Your Flowers Daily

Keep the vase, container or liner filled with fresh water. Even if the container has floral foam, you should keep the water level high to promote long lasting flowers. The container's water has a fresh flower food added to it. If you completely change the water, you should also thoroughly clean the container. Add fresh water mixed with a commercial fresh flower food. These flower foods may be supplied by the florist who delivered your order and they contain the correct ingredients to properly nourish the flowers, keep bacteria at bay (which can block the stems and prevent them from absorbing water), encourage buds to open, and lengthen the life of the bouquet. It's one of the best—and easiest—ways to extend the life of your flowers, but be sure to follow the directions on the package correctly. Improperly mixed flower food can actually do more harm than good.

Re-Cut Their Stems

Every few days, remove the flowers from the design and re-cut the stems. Remove 3/4" to one inch from the bottom of the stem and be sure to cut the stem at an angle to allow the flower the best chance to take up water. Use a sharp knife or sharp floral cutter or scissor. Avoid smashing or piercing the stems, as this can destroy the water vessels in the stem and prevent water absorption. Remove any spent or damaged blooms or foliage that falls below the waterline in the vase.

To avoid disturbing the stem placements in a vase arrangement, tie the stems with twine just above the vase's edge before taking them out of their vase. Hold the tied arrangement at the twine-bound point to re-cut the stems. Then place them back into the clean vase with the fresh water and a flower food.

Change Their Water

Be sure to clean the vase before refilling it with room-temperature water mixed with the proper amount of fresh flower food. Be sure no debris is floating in the water (such as leaves and stem parts) as this could promote the growth of bacteria which can shorten a flower's life.

Display Flowers in a Cool Spot

Most flowers prefer temperatures between 65 to 72 degrees and are best displayed away from direct sunlight, heating or cooling vents, directly under ceiling fans, or on top of televisions or radiators, which give off heat and can cause flowers to dehydrate. Avoid placing fresh flowers near ripening fruit, which releases tiny amounts of ethylene gas that can age them prematurely.
Share
View full details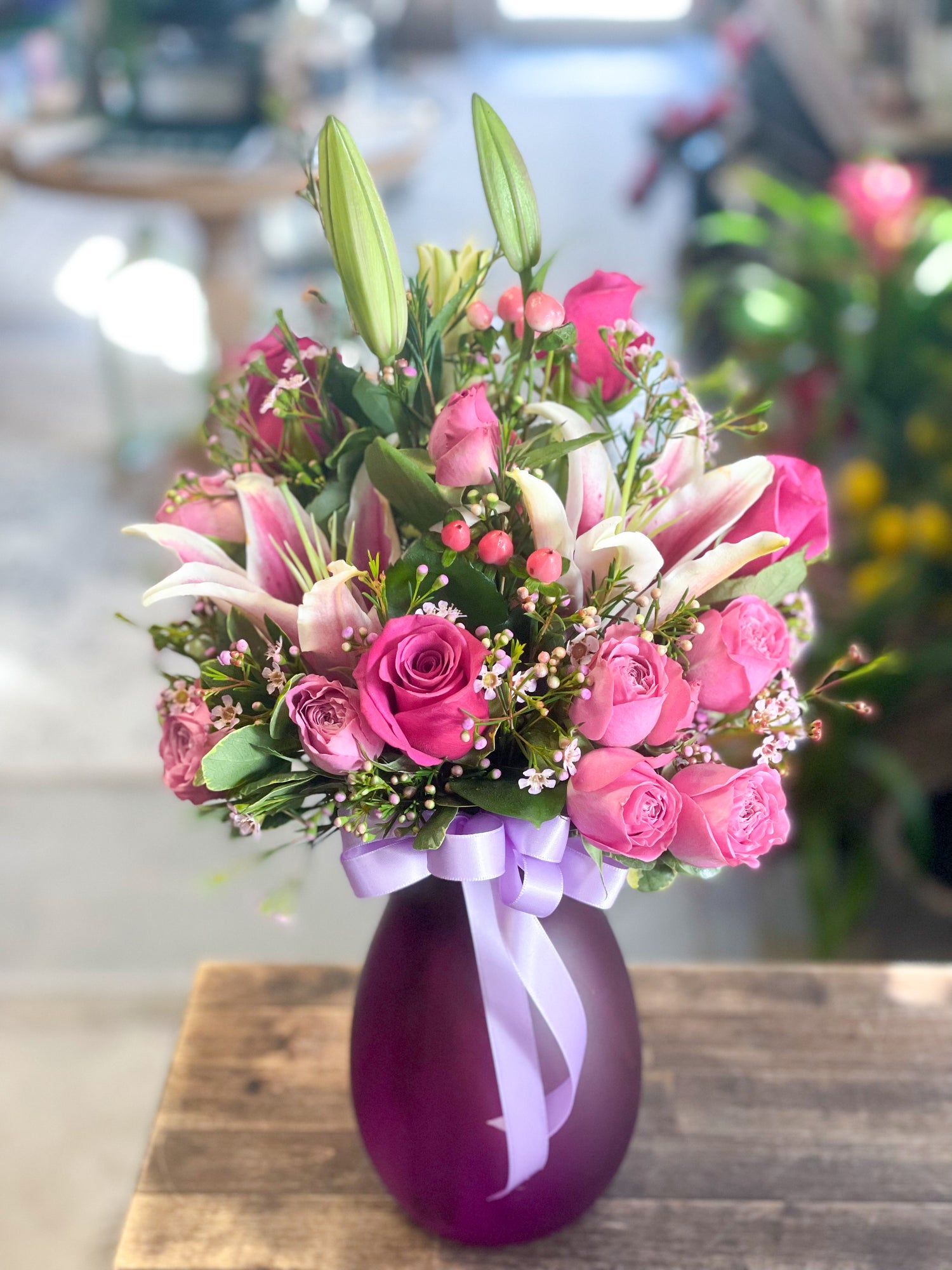 Just A Note About Your Flower Order
All bouquets featured on Petal & Stem have been designed and created by Michelle. However, due to flower availability, the bouquet you order may vary in color and/or texture of greenery.
Michelle takes great care in designing every bouquet that is sent out the door. Please know that your bouquet will be beautiful, even if it varies slightly from the photo shown.
If you would like your bouquet to look exactly like the photo, please give Michelle at least 3 days notice so that the flowers can be ordered and to the store on time.
Delivery

I am happy to deliver flowers to Spalding, Greeley, Ericson, Bartlett, Albion, Cedar Rapids and Primrose.

Delivery fees:

Spalding In Town $3

Spalding Countryside $6

Out of Town $15

Petal & Stem is a one woman operation and delivery fees help cover fuel, mileage and the time that the store will be closed to make flower deliveries. Thank you for understanding!

Valentine's Day & Mother's Day

These are the two biggest days of the year in the flower industry, and I am so excited that you chose to order your flowers through Petal & Stem.

By getting your flower order in early, I can ensure that your order is one of the first out of the door and you have a broad selection of bouquets to choose from.

Spalding is a small community, and to prevent flower waste, I try not to go overboard when ordering flowers for these days.