How to Order Funeral Arrangements
Please call Michelle at 308-497-2292 to order sympathy arrangements.
Arrangement Description
This sympathy arrangement is the most perfect way to pay your respects to the special farmer in your life. This arrangement features a John Deere combine (or a Case combine if specified) in a field of solidago, yellow stock, safari sunset, sunflowers, yellow craspedia, real ears of corn, lush greens and wildflower accents.

Shipping & Returns

U.S. Shipping Rates (Contiguous 48 States)

Items cannot currently be shipped outside contiguous U.S.

All items ship for a $9.95 flat rate fee.

Petal & Stem is, for the most part, a one woman operation. This means that each new order will be shipped in the most timely manner possible, normally 2-3 business days.

Returns

First, I want you to know that your satisfaction is what matters most at Petal & Stem. If you order something from Petal & Stem and you don't absolutely love it out of the box, rest assured that you can return most items within 30 days of delivery for a refund.
Share
View full details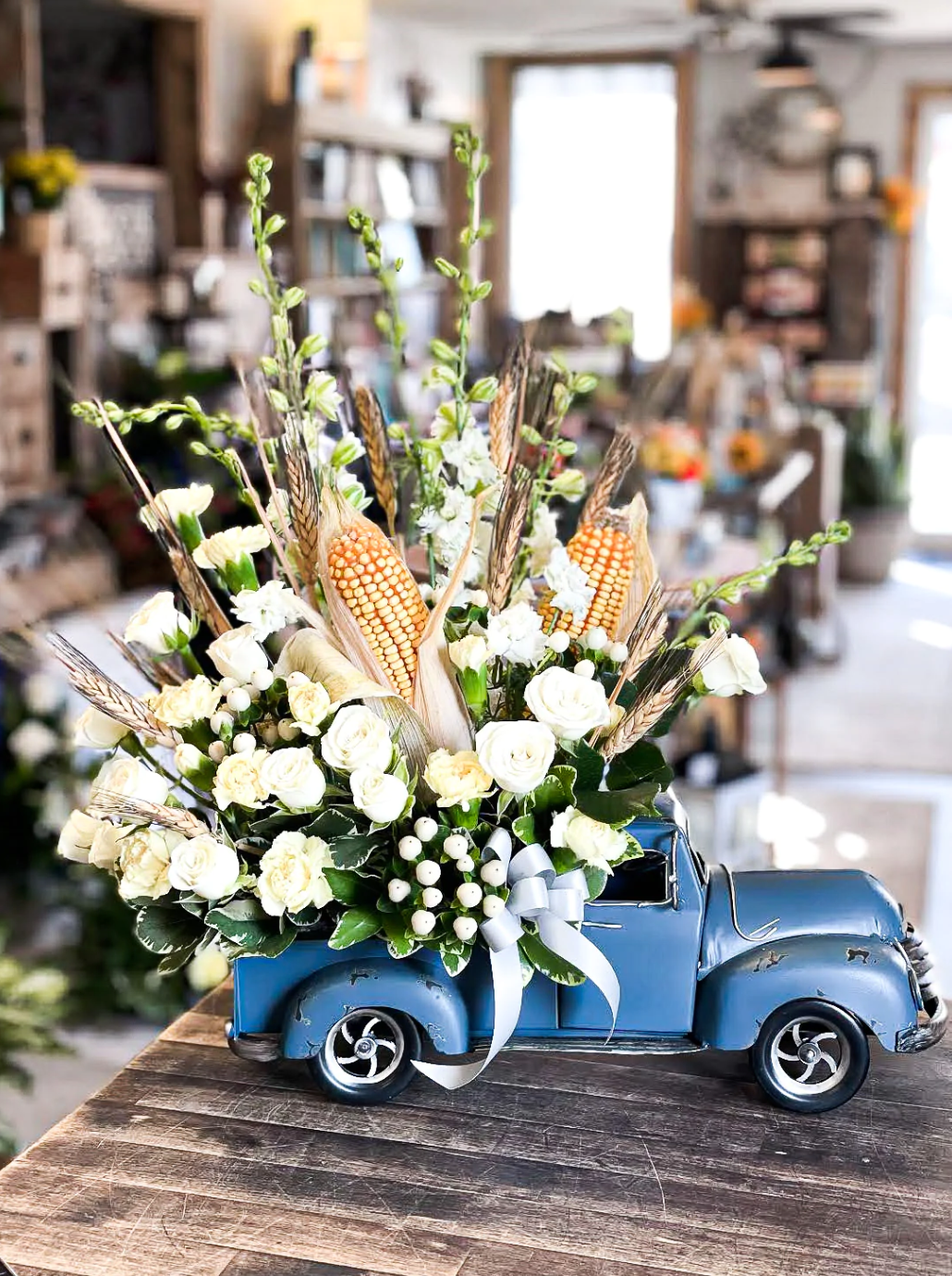 Just A Note About Your Flower Order
All arrangements featured on Petal & Stem have been designed and created by Michelle. However, due to flower availability, the arrangement you order may vary in color and/or texture of greenery.
Michelle takes great care in designing every arrangement that is sent out the door. Please know that your arrangement will be beautiful, even if it varies slightly from the photo shown.
If you would like your arrangement to look exactly like the photo, please give Michelle at least 3 days notice so that the flowers can be ordered and to the store on time.
Delivery
I am happy to deliver flowers to Spalding, Greeley, Ericson, Bartlett, Albion, Cedar Rapids and Primrose.
Delivery fees:
Spalding In Town $3
Spalding Countryside $6
Out of Town $15
Petal & Stem is a one woman operation and delivery fees help cover fuel, mileage and the time that the store will be closed to make flower deliveries. Thank you for understanding!